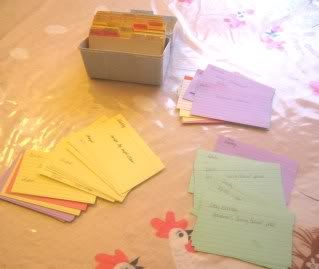 Dear Friends,
In many ways, I taught myself to be a homemaker. Sure I learned some basics from my mother but I didn't learn the fine art of being a homemaker from her. I read some books and such but my first real "a-ha!" moments came when I checked some old books out from the library and I learned how to actually clean my home (it was cleanish–nothing horrifying– before but I learned how to really keep things clean beyond just vacuuming and dusting and wiping down the counters).
Fast forward to the 1990's when I started my graduate studies in earnest. I was having trouble keeping up with everything. Because I was at a university, I had access to the internet before it really exploded into everyday existence and by the grace of God, I discovered The 21 Essays to S.H.E. by Cynthia Townley Ewer. I received a new essay everyday telling me how I could organize my life simply by using a card file by the program developed by the Sidetracked Home Executives* (aka The Slob Sisters). I printed them out and studied them and did as I was told. I still have the printouts and I still use my card system (that is my actual card file and cards in the photo…when I finish this posting, I will take the green card that says "Modern Retro Woman post" and will put it in the appropriate place in the box).
Over the years, I have strayed from The Box, have tried checkoff lists, notebooks, Flylady, emailing myself, and Outlook task lists, but I always return to The Box. Why? Because it seems to work for me. The cards are gentle reminders that I need to dust my ceiling fan and to make my appointment for my annual exam. A simple little tool helps me stay organized in a down to earth and inexpensive way. Using the cards also helped me stay on top of my money management. I no longer forget that I had some bills to pay. Money management simply became part of my weekly routine.
Unless you are one of those people who are born organized (and a lot of people think I am one of those…if they only knew!), you need to create some sort of organization system. The system is not to keep you imprisoned. No! The system liberates you from being a slave to your disorganization (and high distractability, if you are like me).
Today's 10-minute film, from 1949, shows the Miller family pre and post organization and how it helped them run the family like a business.
Click here to watch movie if the player below doesn't show up.

To you fabulous Technicolor life!
DrJulieAnn
*This is an Amazon.com affiliate link. If you click on the link and choose to buy a copy of the book, Amazon will give me a small referral fee. Thank you for supporting ModernRetroWoman.com!

Get the Five Days to a 1950s-style Gracious & Elegant Life Mini-course
Subscribe (free!) to my newsletter with tips and updates PLUS get my (free!) Five Days to a 1950s-style Gracious and Elegant Life mini-course. Once subscribed, I will send you a newsletter with midcentury lessons for subscribers only. You also get access to a private Facebook group for subscribers only. How great is that?