Last weekend was a frustrating one for My Honey and me. I won't go into too many details but let's just say it was the impetus for our conversations about common courtesy, being nice to others, and so forth, and our commitment to stay true to our value of trying to be nice to others even when we think we are being treated poorly or unjustly.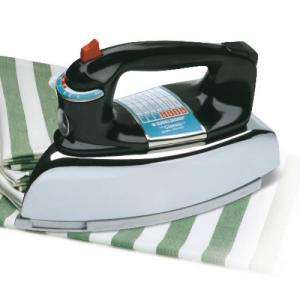 In the middle of these events, I mentioned to a friend that I had some ironing to do and that it would probably help me feel better. And then I said something profound: There is something highly symbolic about smoothing your wrinkles and cares away. It turned out to be true. I was only ironing for about 20 minutes or so (and I have to admit that I wasn't being very careful), but just the semi-meditative process of taking wrinkly clothing and transforming them into nice crisp, ready to be donned attire, put me in a much better mood.
I think ironing has gotten a bad rap…as have most things associated with homekeeping. Now, I don't go as far as some women do. I don't iron our undergarments, sheets, napkins, or towels (although I was just reading the other day on someone's blog about how they love the feel of freshly ironed sheets). But since I've started to set aside time to iron our laundry before hanging in the closet, I've noticed a change in My Honey and me.
When I was getting up at 4:00 in the morning, I would simply iron whatever I was going to wear to work that day. The ironing board stayed up…always. I never ironed any of My Honey's work shirts and only ironed a dress shirt for him if we were going to an event. Now, I iron on the same day we do laundry (we only do laundry one day a week–we don't do the perpetual laundry thing). The first couple of times, I had to sneak My Honey's work shirts into the ironing pile. But, you know what, he started to notice that his work shirts looked nicer. He started noticing that several of them were pretty raggedy–even after ironing– and he tossed them into the rag pile. As for me, it feels like such a relief that I know I can reach into the closet and everything is wearable as is. No further fussing needed. I was also surprised at how soothing it was to not have the ironing board always up. I do my ironing and then it is out of the way.
I am fortunate. I have a good quality iron because I finally did my homework before buying it. My first iron was one of the last good old-fashioned General Electric irons that they made before they sold the division to Black and Decker and changed the design to use lighter materials. That iron lasted for about 25 years before it finally gave up. Incidentally, I notice that Black and Decker has started selling a "classic" iron that looks like the old-fashioned iron but it has received terrible reviews on Amazon.
Quality of iron matters a lot to the ironing experience. A poor quality iron leads to a lot of frustration and extra work. After my original iron died, I went through several irons. As a sewer, I need the iron to press yards of prewashed fabric, keep seams flat, help coax eased sleeves, necklines, and curves, and set in pleats. The first few I bought at Target worked okay but they didn't have enough steam and heft. I finally did my homework. I wanted a Rowenta but it was out of my price range. However the Black and Decker Digital Advantage was in my price range and I've been quite happy with it. My only cons are that it has a digital readout and auto-shut-off (which means that I have to keep re-turning the thing on when I'm sewing).
With the advent of "wash and wear," the need to iron was greatly reduced. I know people who haven't used an iron in years. I think permanent press clothes always have a slightly rumpled look about them. They aren't wrinkled, but they aren't crisp either. I iron all of our clothes, including knits and permanent press. Note: We try to only wear natural fibers as much as possible. Test tube fabrics just feel uncomfortable to me–like wearing Saran Wrap–especially in the summer.
Here are some great resources to help you, too, press your wrinkles and cares away through ironing:
Ironing Time Savers from How Stuff Works
7 Ironing Mistakes and How to Avoid Them
What about you? Do you, too, secretly enjoy ironing? Do you have any ironing tips (other than not ironing)? What kind of iron do you use? Do you like it? Hate it? Let's share some ironing love!
Get the Five Days to a 1950s-style Gracious & Elegant Life Mini-course
Subscribe (free!) to my newsletter with tips and updates PLUS get my (free!) Five Days to a 1950s-style Gracious and Elegant Life mini-course. Once subscribed, I will send you a newsletter with midcentury lessons for subscribers only. You also get access to a private Facebook group for subscribers only. How great is that?