After some confusion about Easter plans (I thought I was hosting it but my mother told me my sister was hosting it but then it turns out we all went to my brother and sister-in-law's house), my mother asked if I would take a pie to Easter dinner (and a salad from the greens growing in my little vegetable patch). I didn't want to take a pecan pie or a pumpkin pie because those are autumnal pies. It felt too early for an apple pie. So I pulled out my Better Homes and Gardens Pies and Cakes Cookbook published in 1966. My mother had the entire series of BH&G cookbooks and they, along with Betty Crocker, were my introduction to cookbooks. Somehow her collection disappeared, so I pick up the volumes from the series here and there (follow the link above–Amazon has some for just one penny). Anyway, I browsed through the Pies and Cakes Cookbook and it hit me that a cream pie would be perfect for a celebratory spring day. The strawberries from my favorite vendor at the farmer's market are delicious right now so I bought a whole bunch and made Strawberry Petal Pie. You might want to explain to little ones that real petals won't be used in the pie. When I told my next younger sister–who admits she doesn't have a homemaking bone in her body but has a very active imagination– I was making this pie, she thought I was using the stems and leaves from the strawberry plant.
Note: You need to feel confident in the kitchen to make this pie. I wouldn't use it as your "learn to bake a pie" recipe.
Strawberry Petal Pie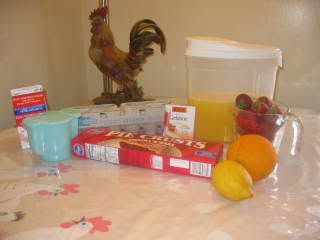 Pastry for 9 inch pie (I used the Pillsbury refrigerated pie crust–my only nod to semi-homemade cooking)
1 envelope unflavored gelatin
dash of salt
1/4 cup sugar
1 cup orange juice
2 tablespoons lemon juice
3 slightly beaten egg yolks
1 teaspoon grated orange peel
3 egg whites
1/4 cup sugar
1 pint fresh strawberries, (topped and) sliced
Whipping cream for topping
Fit pastry into pie plate; trim even with edge. From remaining dough (or other roll if using refrigerated dough), cut 1-inch circles. I didn't have a cookie cutter that small so I simply used half of my tea immersion ball to make the circles.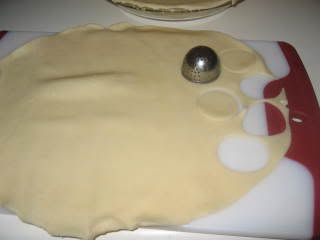 Moisten rim of pie shell with water; place circles on rim, overlapping slightly. In the photo, you'll see that they are hanging off of the edge. DO NOT EXTEND THE "PETALS" BEYOND THE RIM OF THE PIE SHELL. Learn from my mistake. If you extend them, they become unstable and fall off when you take them out of the oven or even look at the pie and then you have to "glue" the petals back on with food glue or icing or cream cheese. Ask me how I know.
I would suggest this: place a circle on the rim, using a fork, seal the "bottom" of petal that will be covered with the filling to the shell and the part of the petal that will be covered by the next petal to the rim of the shell.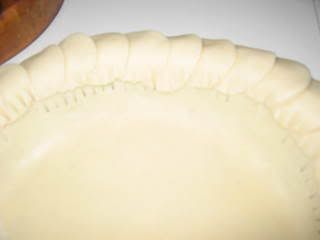 Prick the shell well (if you don't, the pastry will puff up). Bake at 450* F. for 10-12 minutes. Cool.
Filling
Combine gelatin, sugar, and dash salt in saucepan; stir in orange and lemon juices and egg yolks.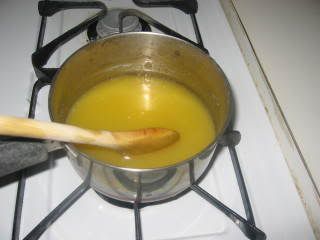 Cook and stir over medium heat just until mixture comes to a boil. Remove from heat; add orange peel. Chill until partially set. Watch this carefully. It will seem like one minute it is still runny and then the next it is set! If you do wait too long, just run the mixer in the gelatin to break it up. It isn't the ideal situation but it is a doable workaround.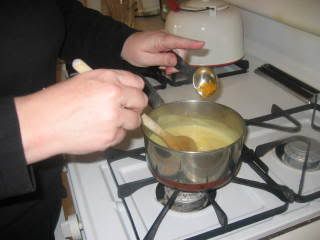 When the mixture has been partially set, beat egg whites until soft peaks form (you don't want to do this too early and have it sitting around while the gelatin mixture is setting).
Gradually add sugar, beating to stiff peaks (notice the egg whites look almost like whipped cream).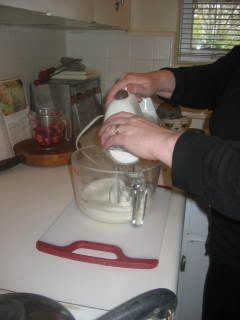 Fold in gelatin mixture. (Folding means to take a spatula and lift and turn the ingredients until the added ingredient is incorporated into the mixture. You don't want to stir because it will deflate the eggs and make them runny).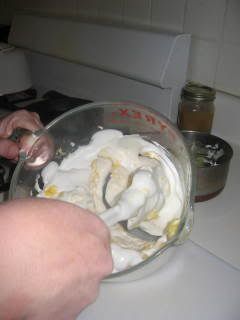 Spread half of the filling in pastry shell; top with 1 cup strawberries.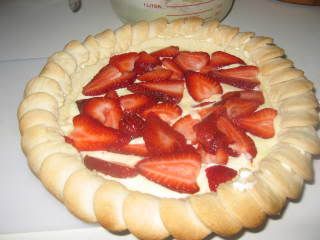 Pile in remaining filling and top with remaining strawberries. Chill 2 to 3 hours (overnight is fine, too).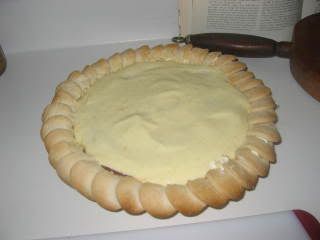 At least one hour before serving: place bowl and mixer beaters in the refrigerator.
When ready to serve: Beat whipping cream on medium setting in the chilled bowl. Cream should be whipped until just before it turns into butter for firm cream.
Top pie with mounds of whipped cream or spread cream over the entire pie in a medium-thin layer if you have whipped cream fiends in your family like I do.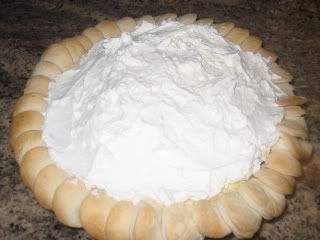 I had trouble making a clean-looking slice but nobody cared. They were busy making yummy sounds while devouring it. There was none leftover.
One disappointment I had was that my sister-in-law's mom and sister both made delicious looking cakes and I didn't get a chance to try them! Connie's was even in the shape of a bunny-rabbit! Too cute!
It is now 5:19, I better post this and start dinner!
Get the Five Days to a 1950s-style Gracious & Elegant Life Mini-course
Subscribe (free!) to my newsletter with tips and updates PLUS get my (free!) Five Days to a 1950s-style Gracious and Elegant Life mini-course. Once subscribed, I will send you a newsletter with midcentury lessons for subscribers only. You also get access to a private Facebook group for subscribers only. How great is that?